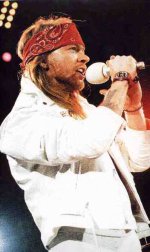 Updated 06/13/01
Thank you for visiting my site dedicated to my favorite band, Guns N' Roses.
I started creating this site quite some time ago. After spending some time researching and visiting other GNR sites, I decided that just about everything that could be done, has already been done. Therefore, I am not going to create another site with pictures, lyrics, etc.
Rather than removing my site, I have decided to leave it as a gateway to the Top 100 GNR Fan Sites which I am the list owner of.
If anyone would like to create a logo for others to use on the GNR top sites or would like to donate a logo they currently use on their site, please send it to roses_no_guns@yahoo.com. I will credit you so please include a link to your site if you send a logo and I decide to use it. Please keep them small!
Currently, this is the logo the top sites list uses: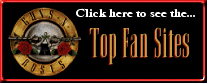 For additional logos created by fans, click here.

Visit the official Guns n' Roses site (s) at
http://www.gnronline.com or http://www.gunsnroses.com
Top 100 (+) Guns N' Roses Fan Sites (The First & Largest List)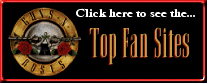 Top 100 Guns n' Roses Fan Sites!
Think your site is great? Prove it!
Enter your site today!
View the 100 best sites!
Maintained by roses_no_guns@yahoo.com